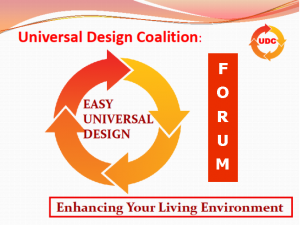 Presentations & Panel Discussions with Experts
in the Fields of: Architecture,  Building and
Remodeling, Healthcare, Marketing, and Real Estate
Monday, June 15, 2015
12:30 PM to 2:30 PM
Lite Lunch will be Served at 12 PM
Free to REALTOR® Association Members
and the General Public
Location:  REALTOR® Association of Sarasota and Manatee
                 2320 Cattlemen Road, Sarasota, FL 34232 
       

 

Featured Speaker
Wanda E. Gozdz, CAPS
Allied ASID, Interior Designer, President, Golden Age Living LLC

 

Recently Named by the NAHB 2014 Certified  Aging-in-Place Specialist (CAPS) Educator of the Year

 
Harold Bubil
Real Estate Editor
Herald-Tribune
Greg Hall
President
Hall Architects
Kathleen Houseweart
Geriatrics Manager
SMH Healthcare System
John King
President
Rampart Homes
Tracy Lux
President
Trace Marketing

Universal Design is the master design umbrella under which other design principles such as accessibility, adaptability, sustainability, and visitability allow for a wide of range choices in building and remodeling residential living environments. 
This variety of choices accommodates a multitude of needs and users from retirees, to traditional families, to newlyweds, to special needs, and beyond.
The UD Forum will address providing safe living environments for our retiring population that allows residents to remain in their homes safely and the ability to accommodate visits from their friends and families.
Examining the growth of new construction and remodeling, the changes in property values, and the diverse lifestyles trends of our community will expand everyone's awareness. 
This will be of value to Realtors, Remodelers, Builders, Occupational and Physical Therapists, Organizations, and Industries serving the retirees and their families that want beautiful and "visitable" homelike environments. 


Harold Bubil
Herald-Tribune
Media Group
Real Estate Editor

"Universal Design is Gaining Traction"
Public forum explains the concept, which can keep people in their homes longer, despite physical challenges.  Link to Article
Winner of 2015 Bob Graham Architectural Awareness Award from the Florida Association of the American Institute of Architects.  Link to Article
 

UDC Forum Flyer (Printable)